PIANO Premier "at first light"
PREMIER SOUND FACTORY
Super Hi-Res Steinway Acoustic Piano Library in 96kHz/24bit
for NI Kontakt Full version (NOT Kontakt Player)
Demo for Professional Check.
Download and compare with stem data of 96kHz 32bit Wav with no any effect and midi files. Unzip and import into your DAW after download.
Demo:1 Tempo: BPM 75
PIANO Premier at first light, Acoustic Bass Premier G, Drum Tree (NY Contemporary kit)
Demo:2 Tempo: BPM 120
PIANO Premier at first light, Bass Premier G (Fender Jazz)
We only used recorded samples for our piano sounds, even for its harmonic resonances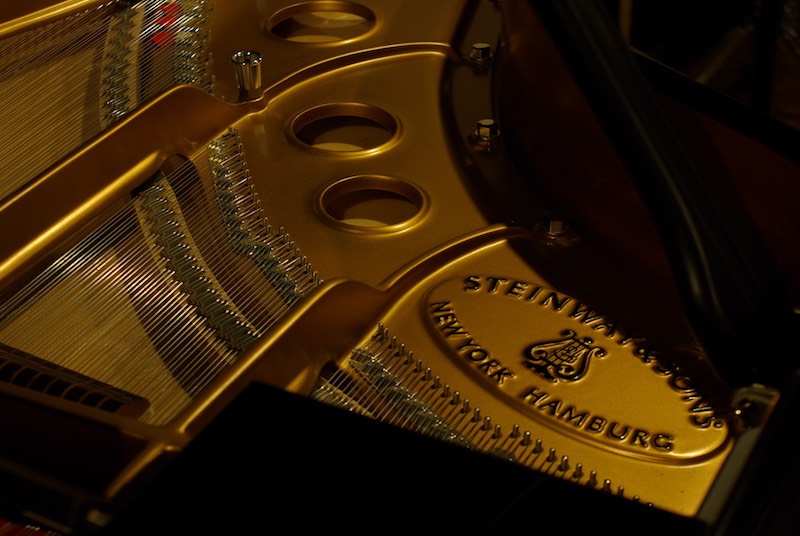 The mainstream piano libraries typically use synthetic modeling systems for harmonic resonance. However, the beauty in the complicated resonances of an authentic piano is like "cosmic space".
When the pedal is engaged between key presses, the harmonic resonances of the piano will be audible. When a note is pressed after the pedal is engaged, the "pedal-on" samples will be activated instead of "pedal-off" samples.
Topics
Half-pedal system
You can control the length of the decay if you use a damper pedal capable of 0-127 step resolution. If you release the pedal slowly, you can end the note quietly without the damper sound.
The half damper system is also controllable with modulation wheel if you have only have an on/off midi pedal.

Variable Dynamic Range
The default "zero" value is the sound of the true studio recording. A higher value helps the piano sit better within an ensemble. Some pianist feel better with bigger dynamic range at their fingers.

Pedal trigger pedal action sound


3 sampled pedal sounds, available for round-robin use with individual controllable levels.



Adjustable Main and High Key Release Noises Independently


The piano's action at the higher keys is different from lower ones. The default settings on both attenuators are the real sounds of studio recording, but can be adjusted to fit your project.



Master Keyboard Velocity Map


You can adjust and optimize the sensitivity of PIANO Premier for your master keyboard.




Max Voice Optimize System
Usually, a maximum of 1 voice per key is used with damper pedal engaged in order to reduce the strain on your CPU. However, this can sometimes cause an unnatural sounds during a performance.
For example: if you play a note with a velocity of 30 right after a note with a velocity of 110, the piano sound will suddenly change to sound much smaller. This system recognizes each situation and automatically changes the maximum number of voices in order to create the most natural and organic sound.

Status Bar Information:
This shows the damper pedal value and also the "note on" velocity value (in Stand alone).

Elegant Convolution Reverb
We use the same 12 Impulse responses that can be accessed in DrumTree, Bass Premier, and Princess Koto KAGUYA and Shakuhachi in order to achieve various landscapes of sounds. It is the perfect combination for the Premier family!
System Details
96kHz/24bit Super Hi-Res raw samples


You can use PIANO Premier at any sample rate, but you will achieve the purest sound and best performance at 96-192kHz session.

12 pedal on layers and 12 pedal off layers (7 Samples each)


We recorded every key with its original mechanical key stroke system. This offers us accurate uniformity of velocity.




6 velocity release noise (4 Samples)
The "Note off" noise is crucial for capturing and recreating the harmonious sound of a real piano. The On/Off status of the followed pedal press automatically provides natural noise play, and the release noise samples will automatically be changed to fit "note on" decay properly with the passage of time.
Supervised by Keiji Matsumoto
Produced and Recorded by Saw Ichiro
Testimony
The sound of Premier PIANO is just stunning. By far one of the best piano sounds I've heard from a sample library. You can really feel the touch of the keys in your performance when you use this library, and it gives you the sense that the instrument is right in front of you. The three different piano styles to choose from are distinct and offer a wide variety of uses. I like that there are not too many parameters to fiddle with, and the ones presented help intuitively guide the user toward achieving the piano sound they are looking for. Currently my favorite sound so far is a solo piano with the Crystal setup and the Kaguya 2 reverb! – Maurice Soque
PIANO Premier "at first light" – Specification
| | |
| --- | --- |
| Format: | KONTAKT Instrument |
| Sampler: |  KONTAKT 5 full version(version 5.7 or higher) |
| Category: | Grand Piano |
| Num of Sound: | 2952 Samples with no loop |
| Download Size(Mac/PC): |  10GB |
| Compatible: | Mac OSX 10.9 Higher(64bit only) Windows7 Later(64bit only) 4GB RAM, 14GB Disk Space |
| Driver: |  Stand Alone, Audio Units VST ASIO Core Audio WASAPI AAX Native(Win: Pro Tools 10 Later、Mac: Pro Tools11 later) |
| DAW: | Cubase, Logic, Sonar, Studio One, Pro Tools, Ableton-Live, Digital Performer, Reaper, Sonar etc… |
| | |
| --- | --- |
| Sampling rate: | 96kHz / 24bit |
| Num of Samples: | 2952 Samples with no loop |
| Instrument Recorded: | Steinway O-180(88key) |
| Layer: | Max 12 pedal off velocity layers + 12 pedal on velocity layers |
| Channel: | Stereo 2ch |