Bass Premier G
PREMIER SOUND FACTORY
Electric Bass Sounds Library 96kHz/24bit
for NI Kontakt Full version (NOT Kontakt Player)
Two Instruments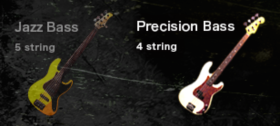 Custom Jazz Bass (5 string)
The most basic, wide range sound, and easy to use bass.
Precision Bass (4 string)
Strong power of Low end, especially for Hip Hop and R&B.
The Bass 96k library comes complete with 2 Electric Basses, including "Custom Jazz Bass" (5 string) and "Precision Bass" (4 string), engineered for the stability. Stable energy for every key and all frequencies with no exaggeration allow optimum balance in all your tracks. Rather than thinned out divided velocities, the even energy of Bass Premier 96k comes genuinely through every fret and keyboard.
I can't go back to life without Legato
Legato is the showpiece of this collection. Hidden behind the beautifully natural legato sound you hear is a long script and a long trial and error process.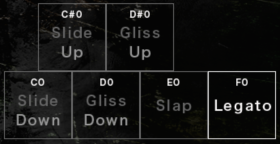 Plenty of variations, slide up, slide down, gliss up, gliss down, legato and slap are equipped for each key controlled with key switches or GUI panels.
Touch noise and fret noise are abundant for an undeniably realistic bass feel. When switching to slap, touch noise also switches to touch automatically. In addition to the slide sound of each key, a large amount of the slides are also equipped in high key range.
We have proudly achieved the rich variations of sound that music makers truly want. Basses were recorded with NEVE1081, Teletronix LA-2A in 96kHz/32bit, and converted to 96kHz/24bit for Logic users with mastering technology.
C0 :Slide down
C#0 : Slide up
D0 : Gliss down
D#0 : Gliss up
E0: Slap
F0: Legato
G0 – A0: Touch noise and fret noise
High Key Range: Slides
New features
GUI equipped
The complex internal system has been simplified and optimized to it's max potential, revealing more power and sound purity, like the lifting of a veil.

Super Natural Legato (Monophonic)
Legato works for pressing F0 key, or ON/OFF switch Legato Panel. Legato Speed is changeable.

Vibrato with Modration Wheel
Accessable with Mod. Wheel, or Vibrato Knob.

Slap with Key Switch
Accessable for E0 key, or ON/OFF switch Slap Panel.


Recording studio sampling reverb
The same IR's of Drum Tree®, Studio A, Studio B are available.

Bass Premier G Basic Topics
96kHz/24bit Hi-Res raw samples
You can use Bass Premier G in any sample rate session, but you will achieve the 100% purest and best performance in 96kHz session without Kontakt's sampling rate conversion
10 layers (3 velocity layers) for each inst
3 or 4 velocity release noise
7 layer of Touch noise with G0 and A0
3 layer of Fret noise with G#0
More than 40 Slide Variation from F4


Because of its own natural power, you can add more power onto other instruments above that solid bass, making it easier to widen the frequency range and pack more powerful loudness in your mix with Drum Tree® and Bass Premier series.
Specification
Bass Premier G
| | |
| --- | --- |
| Format: | KONTAKT Instrument |
| Sampler: | KONTAKT 5 full version(version 5.7 or higher)*Not for Free Kontakt Player |
| Category: | Electric bass |
| Num of Sound: | Max 42 keys plus 42 slide notes and noise |
| Download Size(Mac/PC): | 1.8GB |
| Compatible: | Mac OSX 10.9 Higher(64bit only) Windows7 Later(64bit only) 4GB RAM, 2.14GB Disk Space |
| Driver: | Stand Alone, Audio Units VST ASIO Core Audio WASAPI AAX Native(Win: Pro Tools 10 Later、Mac: Pro Tools11 later) |
| DAW: | Cubase, Logic, Sonar, Studio One, Pro Tools, Ableton-Live, Digital Performer, Reaper, Sonar etc… |
| | |
| --- | --- |
| Sampling rate: | 96kHz / 24bit |
| Num of Samples: | 876 Samples with no loop |
| Num of Inst: | 2 |
| Layer: | 10 layers (3 velocity layers) |
| Channel: | Mono 1ch |